Getting from Tokyo and Osaka to Lake Nojiri
Lake Nojiri Access | Getting to Lake Nojiri
Welcome to the Nojiriko Access Guide. Getting to Lake Nojiri from Tokyo and other major Japanese cities is quite straightforward via bus, train, taxi or shuttle.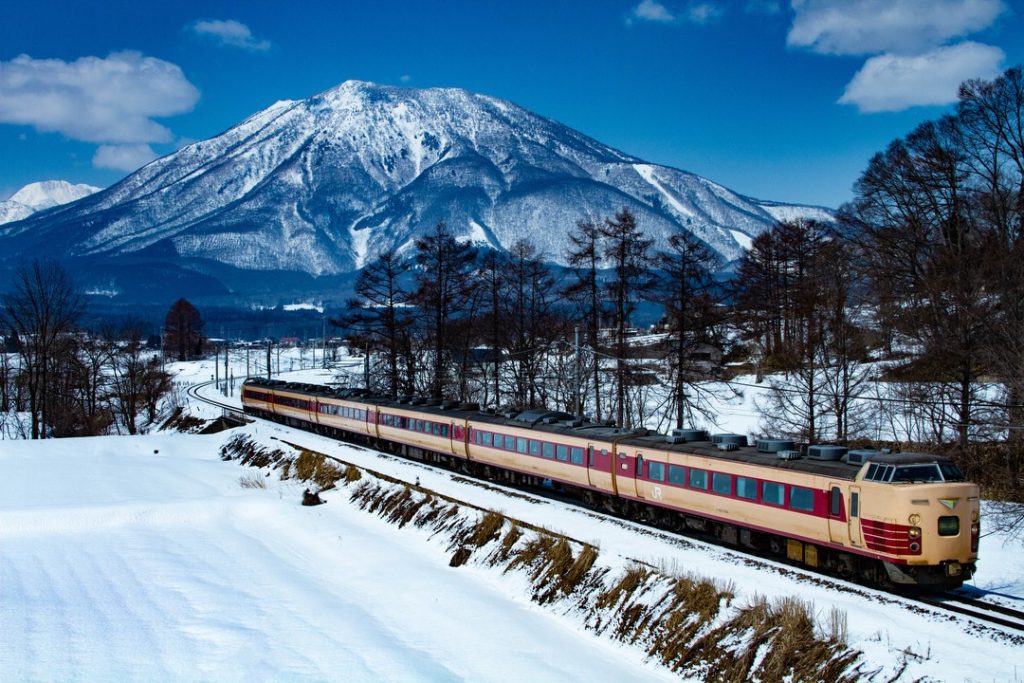 Lake Nojiri is located in the North-Western corner of Nagano Prefecture in central Honshu Island, Japan.  The area is easily accessed from both airports in Tokyo (Narita & Haneda) by shinkansen (bullet train), airport shuttle (to Nagano), taxi, rental car or bus, as well as from Kyoto, Osaka and Nagoya.
How long to get to Lake Nojiri?
The total travel time from Tokyo to Lake Nojiri is usually between 3-4 hours via shinkansen bullet train/local train or around 5 hours via shared taxi. There are also several options from the airports in Nagoya and Osaka (Kansai). This usually takes between 5-6 hours.
Getting to Lake Nojiri: Access Map
The below access maps for getting to Lake Nojiri provides an overviews of the various routes to the area, as well as times.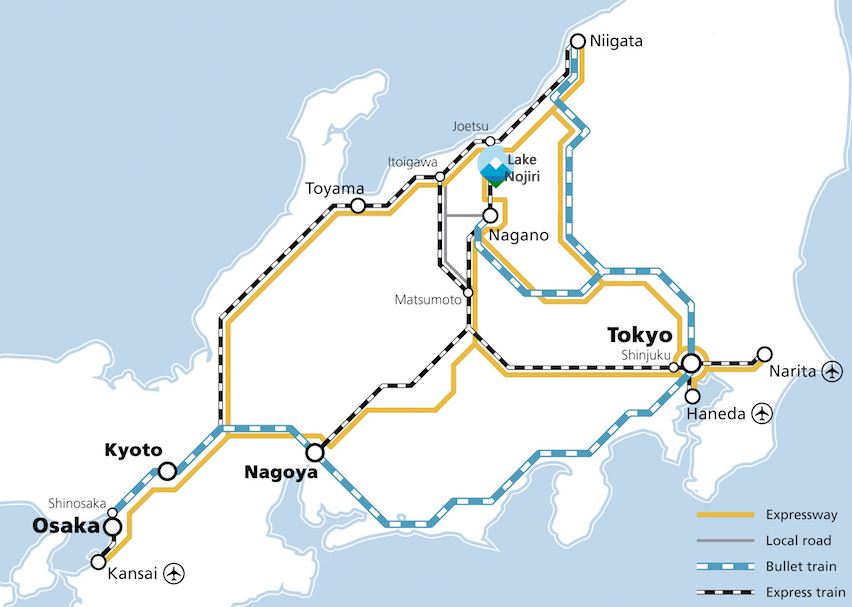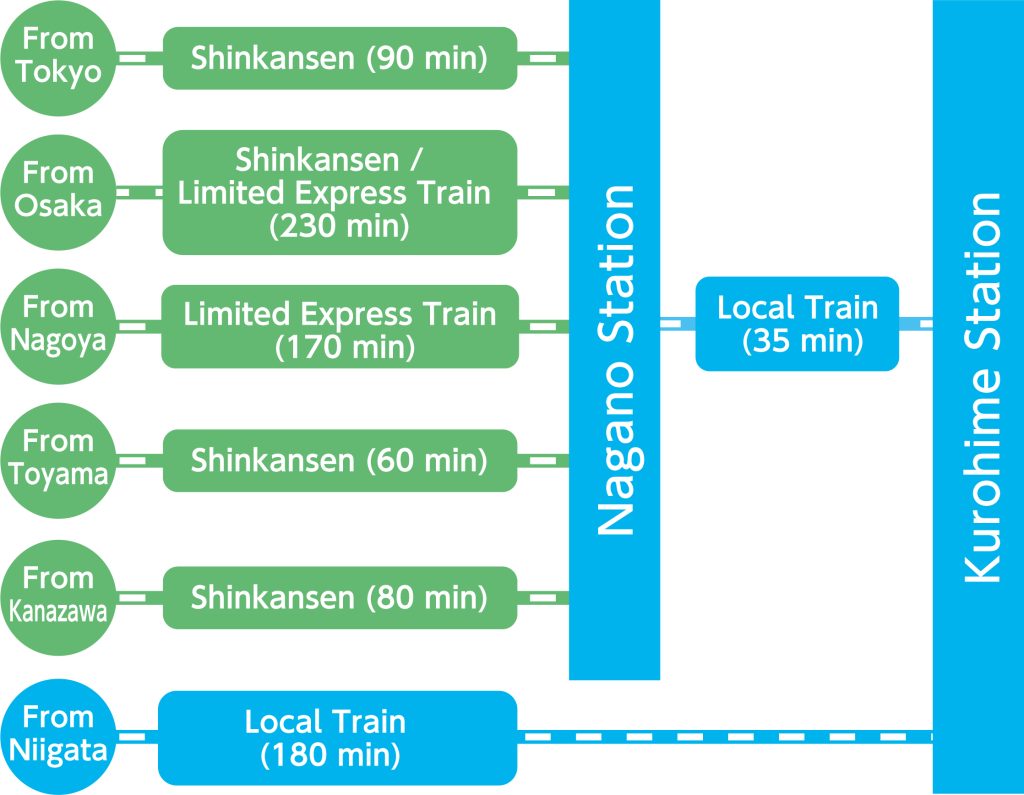 From Tokyo, Narita & Haneda to Lake Nojiri
Via Shinkansen and Connecting Train
Catch the train from Narita Airport or Haneda Airport to Tokyo Station (see here for full instructions).
Follow the green signs for the Nagano Shinkansen which usually leave from Platforms 22 or 23 at Tokyo Station (see map here). Take the Nagano 'Asama' Shinkansen on the Hokuriku (Nagano) line to the Nagano station terminus or the faster (and more expensive) Hokuriku Shinkansen bound for Kanazawa.
The journey usually takes between 1.5 – 2.5 hours (average is 1 hour, 50 minutes). The Nagano Shinkansen runs frequently until 10.00pm each day. The non-reserved cars are to the rear heading to Nagano (usually car nos. 1-3). All cars are non smoking. There are between 2-3 trains per hour. If staying overnight in Nagano City you can book hotels here. You can reserve your tickets using the Japan Rail online reservation system.
Here's how you change trains to the shinkansen in Tokyo
From Osaka, Kyoto and Nagoya to Lake Nojiri
There are two ways for getting to Lake Nojiri from the Kansai area.
1. From Shin-Osaka or Kyoto station, catch the Tokkaido Shinkansen to Nagoya (usual travel time is 40-55 minutes). Transfer at Nagoya Station to the Chuo Honsen line and catch the Shinano Limited Express bound for Nagano Station (normal transit is 3 hours) that travels through the scenic Kiso Valley. Keep your camera out as there is some beautiful scenery along the way.
2. Take the express train to Kanazawa Station and then change to the Hokuriku Shinkansen. This journey goes via the Japan Sea coast and is a more expensive option. You can get off at JoetsuMyoko and transfer to the local train. However, there is an extra transfer needed at MyokoKogen. Therefore we recommend taking the shinkansen all the way to Nagano.
From Nagano to Lake Nojiri
With the March 2015 extension of the Nagano Shinkansen to Kanazawa, and its renaming as the Hokuriku Shinkansen, the local line from Nagano Station to Myokokogen Station was privatised, making the transfer at Nagano Station a little more challenging. Please refer to the maps below.
From Nagano Station, visitors heading to Kurohime Station should take the Kita-Shinano Line to Myoko-Kogen, which takes approximately 40 minutes and costs ¥800. Kurohime is the last stop before the Myoko-Kogen Terminus.
Coming by Shinkansen
If you are coming on the shinkansen you can head out via the Shinkansen Gate, buy a new Shinano Railway ticket and then re-enter via the Local Line Gate. If your transfer time is short you can request a fare adjustment at the transfer gate.
Coming by regular train
If coming by regular train from Osaka, Kyoto, Nagoya, or other destinations, you may need to exit once from the local train platforms to purchase a new ticket on the Shinano Tetsudo Line to Myoko-Kogen Station.
From Kurohime Station to Lake Nojiri
You can catch a bus or taxi from the station to Lake Nojiri. Many hotels will collect guests if provided enough notice.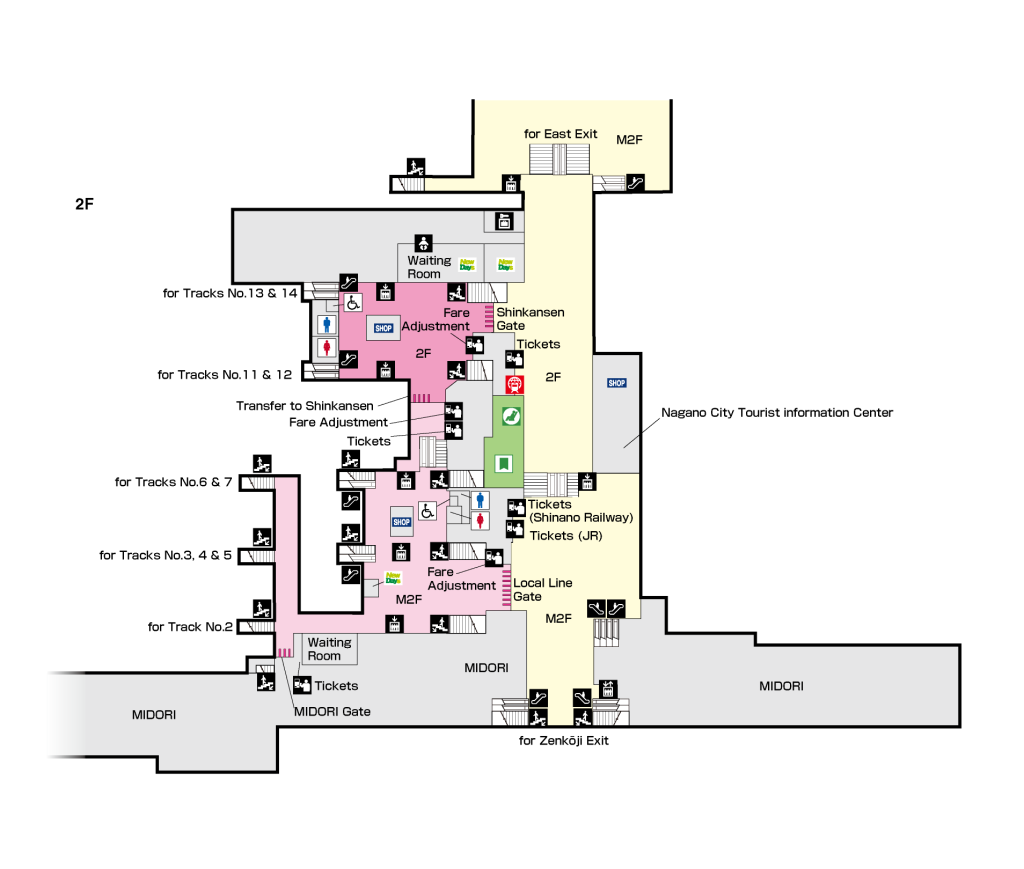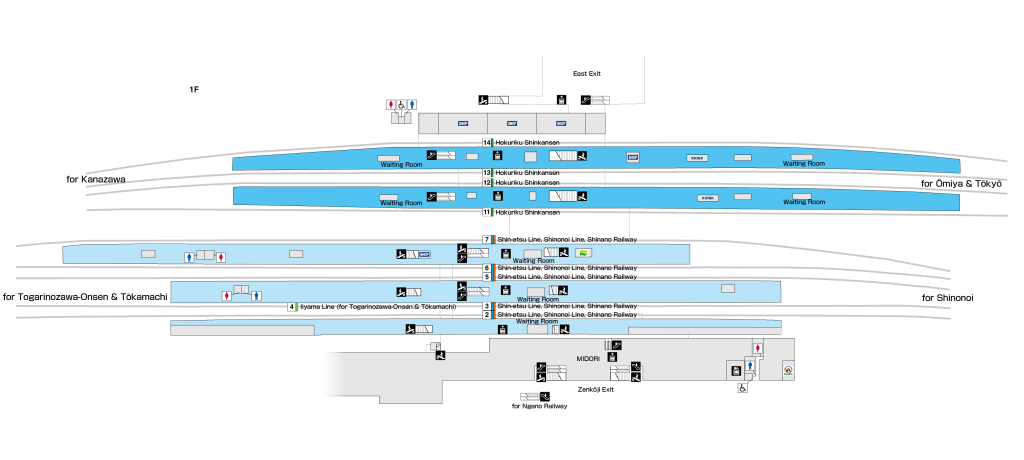 Private Transfer to Lake Nojiri
For larger groups we can organise a taxi van direct to/from your hotel to/from Tokyo, Narita, Haneda or Nagano Station. Other destinations in Nagano by request.
A chartered direct service to/from airport/hotel is usually ¥110,000-¥139,000 each way for a group of up to 7-8 with luggage. For Nagano it is around ¥30,000 for the same size group.
Transit time to Lake Nojri from Tokyo/Airports for all these services is approximately 4 to 5 hours depending on traffic and weather conditions.

Nojiriko Access Guide. More info on getting to Lake Nojiri soon!