Things To Do:
Fishing Skiing Hiking Water Sports Cycling Festivals Or just take it easy!
Things to do in Lake Nojiri
If you can't surrender to the temptation to do nothing, try a spot of fishing, a swim in the lake, a stroll along the Woolly Mammoth trail or a nice healthy hike. Upon enquiry locals can run hikes and foraging expeditions for wild foods like mushrooms and mountain vegetables. Following are some examples of the variety of activities that take place all year round at or near the lake. In winter you have three ski resorts very close by – Madarao Kogen, Tangram Ski Circus and Kurohime Kogen.
Things to do in Lake Nojiri: Skiing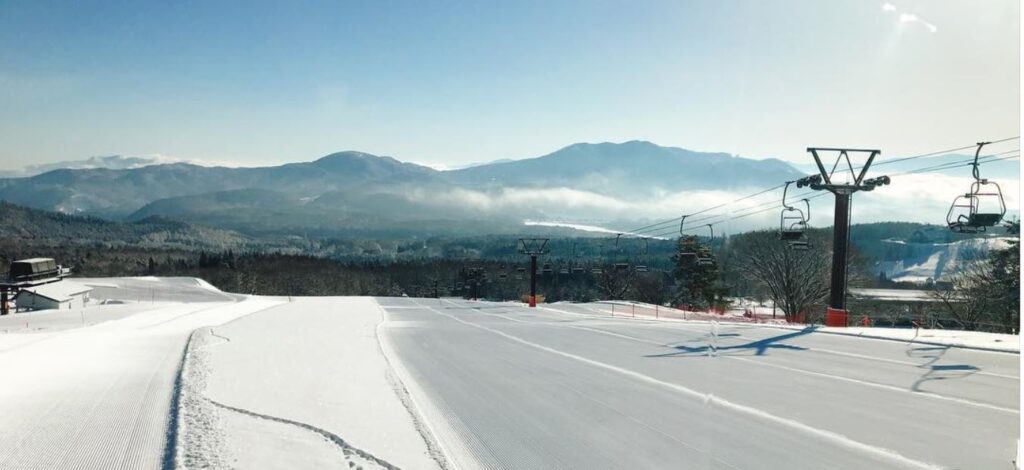 Things to do in Lake Nojiri: History
The Nojiri Naumann Elephant Museum includes an exhibition of the fossils of Naumann Elephant and Big-horned Deer from Jomon times around 40,000 years ago. These were excavated in the Nojiri Lake area and are displayed together with an exhibition of stone tools and bone tools.
In nearby Shinanomachi lies the home of the revered Japanese poet, Issa
Things to do in Lake Nojiri: Markets
For just a fraction of the price you would pay in Tokyo or Osaka, the Nojiriko area has numerous roadside stalls and farmers' markets where you can buy great local produce. The tomatoes and peaches are renowned throughout Japan and the region has local farmers growing blueberries, apples, pears, corn, edamame (green soybeans) and dozens of other fruits and vegetables. You will also discover all sorts of local specialities such as Scotch thistle preserve, walnut jam and aloe vera honey.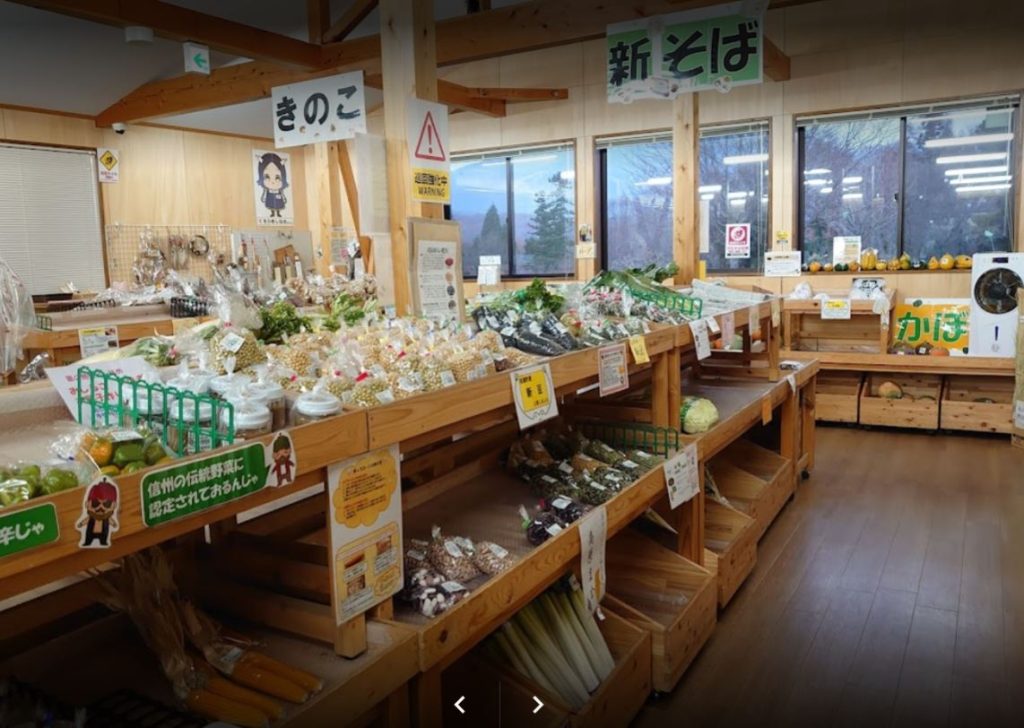 Things to do in Lake Nojiri: Water Activities
Situated in the middle of the lake is Biwa Island featuring Uga Shrine which was founded in 730AD. The main sanctuary area of the shrine was constructed in 1655. The island can be reached by small ferry, canoe/kayak or paddle boat. In winter there are snowshoeing visits to the island available (request via Nojiri Lake Resort). Watersports available include SUP stand up paddling, wakeboarding, windsurfing, banana boating, water skiing and much more.
In winter visitors can engage in the uniquely Japanese sport of fishing for smelt (wakasagi), using red-dyed ant-eggs as bait. Wakasagi are a tiny silvery freshwater fish about the size of an anchovy. As the lake freezes over (though be warned it is not thick ice for walking on!), specially designed boats are available for hire. You can sit in the cabin warmed by a kerosene heater sipping warm local shochu (a little similar to sake) as you fish. A fishing guide map (in Japanese) is here. Tours are available for 4,000 yen per session and booking in English is available here.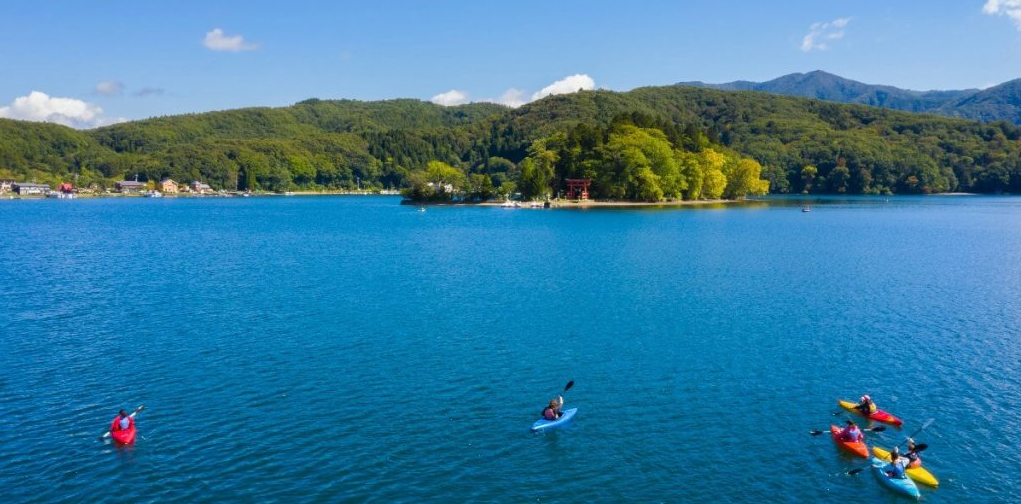 Visitors can also take the pleasure boats "Miyabi" or "Twin Bee" to cruise around the lake for about 30 minutes from the middle of April to the middle of November.
The pleasure boats moors at Benten-jima for about 15 minutes for you to stroll around the island. The entire island serves as grounds for Uga-jinja Shrine and attracts a constant stream of worshippers. Look out for a framed inscription of the shrine's name on the main gates. It was originally written by Katsu Kaishu (1823–1899), a warrior and statesman who lived from the end of the Edo period (1603–1867) to the start of the Meiji period (1868–1912). Today, a replica of the inscription is in its place.
Note that boats do not operate in winter. Contact Nojiriko Teikisen for details and bookings.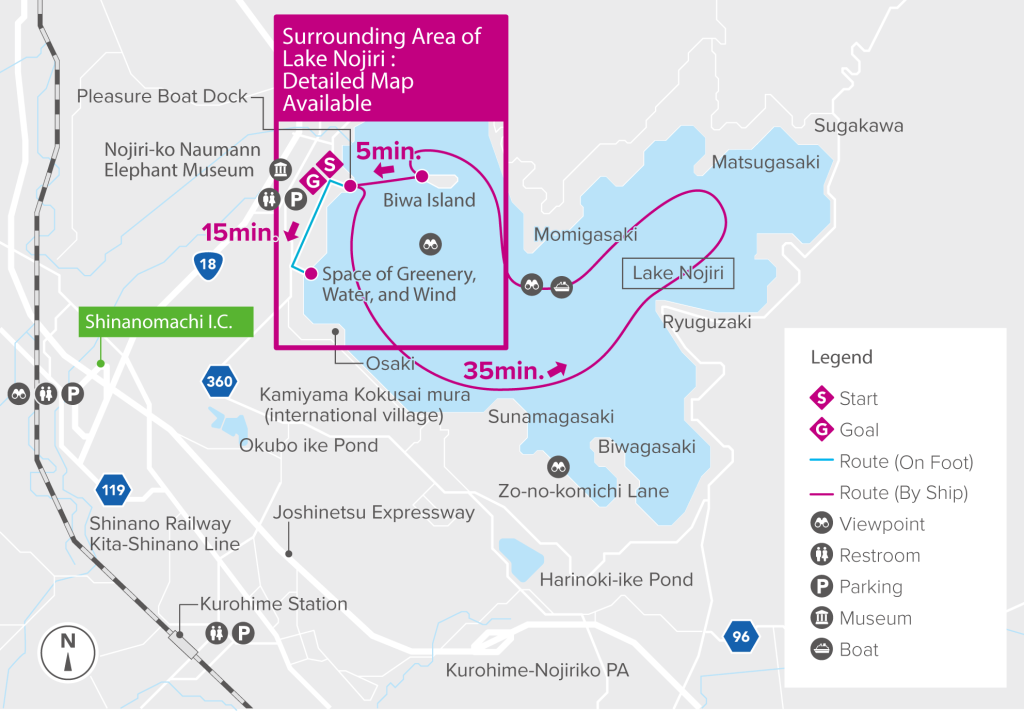 The highlight of each summer is the Nojiriko hanabi (fireworks festival) along with Lake Nojiri Floating Lanterns. This summer tradition in Lake Nojiri has a long history since the mid-Taisho period that includes a spectacular fireworks display over the lake held near the end of July every year. This is a traditional fireworks display which has been held since the middle of the Taisho period as an annual event celebrating the summer in Shinano-machi. The highlights of the fireworks display are the water star mines exploding on Nojiri Lake and the underwater star mines dropped from the motor boats. Try to arrive early – the traffic can be heavy! See an album from 2014 here.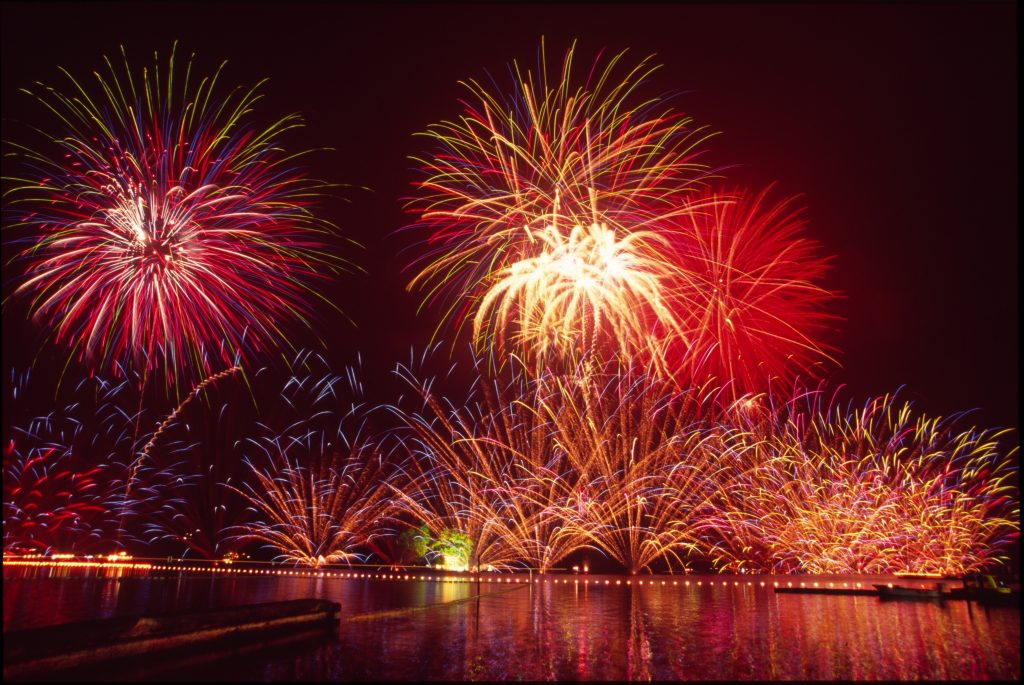 Competitions at Lake Nojiri
Those with a little more stamina can enter the annual Lake Nojiri Cup Triathlon, which consists of a 1.5 kilometre swim, 45-kilometre bike ride and 16-kilometre run. The Nojiri Triathlon is an increasingly popular event for both contestants and spectators. It held every year around the middle of July. Competitors came from all over Japan as well as overseas.